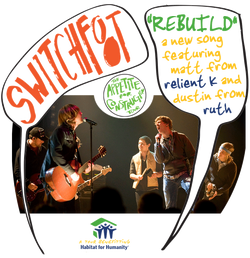 "Rebuild" is a song written and performed by Switchfoot, Relient K, and Ruth for "Habitat for Humanity".
You can download the free song here.
Lyrics

Watching the world with my highway eyes
Watching the world from the windows that I've known
These mobile homes

Loneliness was a friend of mine
But with you that's through and I feel home
Away from home
Away from home
Away from home

Oh we're the regeneration
Oh with time to kill
Oh we're the regeneration
Oh rebuild, rebuild

You lit a fire in the pouring rain
But there's so many noisy voices
Oh! I get so cold.

The city lights and the midnight train
I hate to say it but I get caught letting go
Of the things I know

Do not conform to this
Do not conform

Every life comes with a broken heart
Dying here to be made whole
We are the lost souls with a second start
Following the builder home
There's a temple I've found in the strangest part
Where the stones are built of souls
Where the builder himself has promised, "love,
I'm never going to let you go. Go!"

Rebuild

Ad blocker interference detected!
Wikia is a free-to-use site that makes money from advertising. We have a modified experience for viewers using ad blockers

Wikia is not accessible if you've made further modifications. Remove the custom ad blocker rule(s) and the page will load as expected.